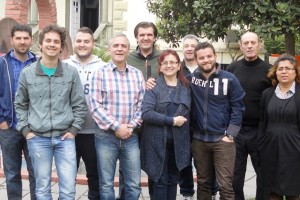 Hello,
We did have a successful preparation meeting today. We were gather ten people together, from Macedonia and around Albania.
Some of the topics were: We are expecting 70-80 people this year. More then 70 % of the participants will pay the fee themselves. We decries the fee amount from 70 to 60 euro and the reason is that we are staying three nights and not four like other years.
We will have six groups: two from Shkoder, one from Korca, one from Tirana, one from Ninesh (south Alb is Memli involved), one from Iba and one (large one) from Macedonia.
The speakers will be: Zoran, Jaco, Memli and as reserve Edi Gjoni (Shkoder).
We will have six workshops: Puppets (Linda), helping and evangelizing to elderly (new one will be done from Aida and her daughter), Sketch-board — Jaco, Media, Drama and Sport.
As attachment also the group photo of today.
Thank you and blessings
Renato